August 2011 court hearing of Shawn Richard
Before VOFF formed one of our members had the opportunity to attend one of the court hearings concerning Shawn Darrell Richard. He reported that the Australian Securities and Investments Commission were very friendly toward the defendant. The same could be said about the Australian Prudential and Regulatory Authority as their relationship had evolved over many years of sharing meeting together. All very cosy and the only people left in the dark as to what was going on - the only people not invited into this friendliness were the victims who had their life savings ripped off by Mr Richard.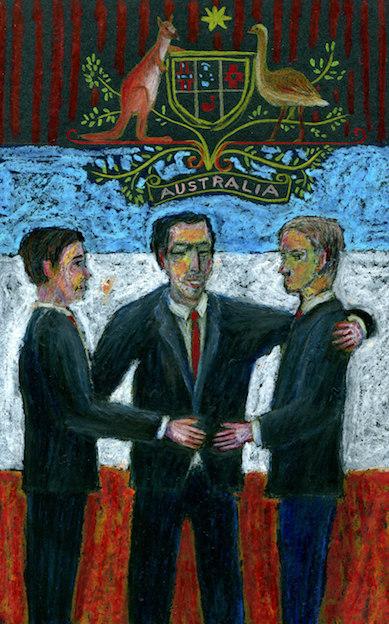 January 9th 2016
Two court trials set for 11th January and April 18th 2016
Shawn Richard affidavit
In an examination hearing of Shawn Richard, his representative reminded the prosecution of a suppression order. Mr C R C Newlinds SC said he was
very conscious of that and he won't breach it, and added, just because there's a suppression order about a document does not mean I can't ask questions.
The affidavit was the subject at that moment in time before Justice Barrett and the Justice was debating as to whether the court hearing should stay confidential or not, but at the moment it is the subject of a confidentially order, that is the affidavit.
The issue of the affidavit is raised in the Justice Barrett hearing.
9. I deal now with Mr Richard's application for an order that the whole of his examination be held in private. As I said, that application is opposed by both the liquidators and Fairfax. The confidential affidavit of Mr Richard puts forward matters in support of the proposition that relevant special circumstances exist. I do not intend to refer in any explicit way to the content of the affidavit. It is sufficient to say there are two themes, one of fear of personal harm and the other of a medical condition in the form of stress.
10. It was put on with behalf of the liquidators and Fairfax that a very great deal of the content of the affidavit consists of hearsay and in some places hearsay upon hearsay, and should be given little weight, although it is noted that on this interlocutory application s 75 of the Evidence Act 1995 makes hearsay material admissible. I accept the submission concerning weight.
11. In any event, if the evidence of Mr Richard about fears for his safety is taken at its highest, it establishes, in my view, that the matters giving rise to the fears lie very largely in the past, and while the circumstance that the examination is to be held may exacerbate matters, there is really nothing in the affidavit on which one could find an examination in public will produce a greater risk or valid apprehension of risk than an examination in private.
12. Mr Richard, on this application, does not seek to be excused from being put into a position where he must answer questions. Rather, he says, that he should be allowed to answer them in private (and, therefore, in circumstances where they cannot receive publicity) rather than in public where they can be the subject of media report and other comment.
13. The content of his affidavit regarding fears for his safety does not, on my assessment, distinguish between compulsion to answer questions in public and compulsion to answer questions in private. If the fears are well based, the form of the examination which he makes disclosures which he thinks may bring harm to him makes no difference.
14. As I said, on this application it is not a matter of whether Mr Richard should be examined at all, it is a matter of whether the examination should be ordered to be in private rather than take the normal course of being held in public. It is in that context I have said what I have said.
15. As to Mr Richard's health, he says himself that he is suffering from stress which has manifested itself in certain symptoms. He attached to his affidavit a letter from a doctor, now 14 days old. It is apparently a copy of a referral to a neurologist, and apart from referring to a blood pressure reading, does no more than refer to "a lot of work associated stress". One would venture to say that stress for examinees is a familiar and normal by-product of liquidators' examinations undertaken in the ordinary way.
16. I am not satisfied that special circumstances exist in relation to Mr Richard by reason of which it is desirable that his examination be wholly in private. It is for him to prove the existence of special circumstances and to persuade the court that those circumstances warrant a displacement of the north statutory regime of the examination in public. He has not done this.
Source: Parbery re Trio Capital Limited [2010] NSWSC 775 (12 July 2010) before Barrett J
Part of the Evidence Act covering a suppression order suggests it is available for victims. In the case of Trio, the victims were never notified or informed that they could attend court, or were the victims provided the opportunity to submit a Victims impact Statement. The fact that Shawn Richard exercised this right from the culprits perspective is of interest when the history of Flader et al is not ignored. The skills employed by fraudsters to intimidate their objectors is as old as the robbing craft itself.
EVIDENCE ACT 1929 - SECT 69A
69A—Suppression orders

(1) Where a court is satisfied that a suppression order should be made—

(a) to prevent prejudice to the proper administration of justice; or

(b) to prevent undue hardship—

(i) to an alleged victim of crime; or

(ii) to a witness or potential witness in civil or criminal proceedings who is not a party to those proceedings; or

(iii) to a child,